An adult book discussion group meeting the third Tuesday of each month at 6:30 p.m. in the Community Room of the  Kish branch of the Mifflin Co. Library.  
New adults are always welcome! For more information, call the Kish Branch (717)935-2880, or email:  kish@mifcolib.org
Book Group Selections for 2014/ 2015
Feb 17th, 2015--Lincoln by Gore Vidal
In this profoundly moving work of epic proportion and intense human sympathy, Abraham Lincoln is observed by his loved ones, his rivals, and his future assassin.
Get to know Lincoln, the man, the political figure and the president who entered into a scene that many doubted that he could fix. Follow him through his trials and tribulations as he becomes arguably one of the most loved and admired leaders of America. Beautifully written.
Mar 17th, 2015--The Light Between Oceans by M.L. Stedman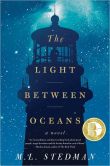 After four harrowing years on the Western Front, Tom Sherbourne returns to Australia and takes a job as the lighthouse keeper on Janus Rock, nearly half a day's journey from the coast. To this isolated island, where the supply boat comes once a season, Tom brings a young, bold, and loving wife, Isabel. Years later, after two miscarriages and one stillbirth, the grieving Isabel hears a baby's cries on the wind. A boat has washed up onshore carrying a dead man and a living baby.
April 21st, 2015--Great Expectations by Charles Dickens
In what may be Dickens's best novel, humble, orphaned Pip is apprenticed to the dirty work of the forge but dares to dream of becoming a gentleman — and one day, under sudden and enigmatic circumstances, he finds himself in possession of "great expectations." In this gripping tale of crime and guilt, revenge and reward.