The participants in this book group choose the book they will read each month and then discuss their individual views and comments about the book.  Meetings are held the second Wednesday of each month at 1:00 p.m. in the Community Room of the Lewistown branch of the Mifflin County Library.
New members are always welcome! For more information, call Dorothy at (717)242-2391 or email: mclill@mifflincountylibrary.org 
Scheduled meetings and books for 2014:
November 12: The Light Between Oceans by M.L. Stedman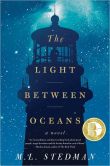 After four harrowing years on the Western Front, Tom Sherbourne returns to Australia and takes a job as the lighthouse keeper on Janus Rock, nearly half a day's journey from the coast. To this isolated island, where the supply boat comes once a season, Tom brings a young, bold, and loving wife, Isabel. Years later, after two miscarriages and one stillbirth, the grieving Isabel hears a baby's cries on the wind. A boat has washed up onshore carrying a dead man and a living baby.
*Summaries provided by goodreads.com