The participants in this book group choose the book they will read each month and then discuss their individual views and comments about the book.  Meetings are held the second Wednesday of each month at 1:00 p.m. in the Community Room of the Lewistown branch of the Mifflin County Library.
New members are always welcome! For more information, call Dorothy at (717)242-2391 or email: mclill@mifflincountylibrary.org 
Scheduled meetings and books for 2014:
October 8: The Orchardist  by Amanda Coplin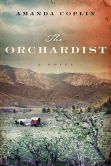 Set in the untamed American West, a highly original and haunting debut novel about a makeshift family whose dramatic lives are shaped by violence, love, and an indelible connection to the land.
One day, while in town to sell his fruit at the market, two girls, barefoot and dirty, steal some apples. Later, they appear on his homestead, cautious yet curious about the man who gave them no chase. Feral, scared, and very pregnant, Jane and her sister Della take up on Talmadage's land and indulge in his deep reservoir of compassion. Yet just as the girls begin to trust him, brutal men with guns arrive in the orchard, and the shattering tragedy that follows sets Talmadge on an irrevocable course not only to save and protect them, putting himself between the girls and the world, but to reconcile the ghosts of his own troubled past.*
November 12: The Light Between Oceans by M.L. Stedman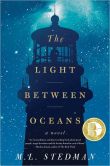 After four harrowing years on the Western Front, Tom Sherbourne returns to Australia and takes a job as the lighthouse keeper on Janus Rock, nearly half a day's journey from the coast. To this isolated island, where the supply boat comes once a season, Tom brings a young, bold, and loving wife, Isabel. Years later, after two miscarriages and one stillbirth, the grieving Isabel hears a baby's cries on the wind. A boat has washed up onshore carrying a dead man and a living baby.
*Summaries provided by goodreads.com